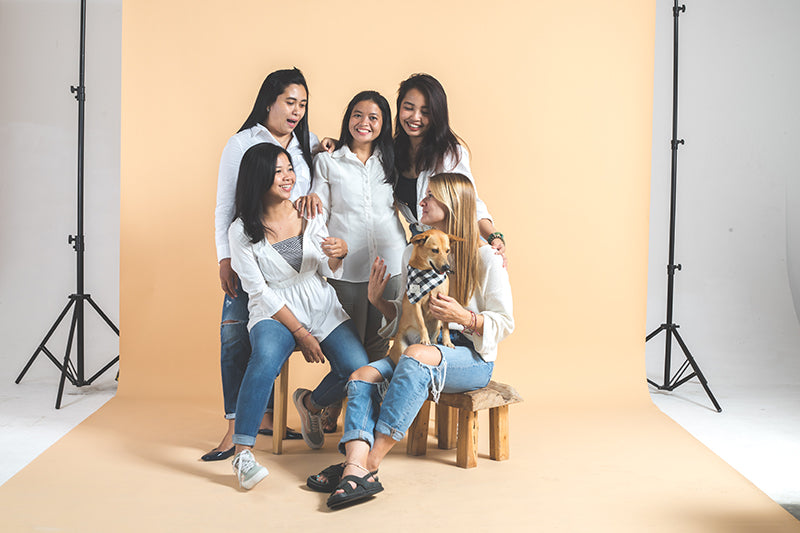 This Is Us
A steadily growing team – mostly woman.
Even though we don't focus on a woman only team, we just happened to be one (almost). Everyone of us has a super power and all of them combined makes us quite strong.
Before we introduce everyone of the team, let us share our values and beliefs with you.

The Team
Annika (Founder)
With her background in design and marketing and with being the swiss army knife, she kickstarts ideas.

Superpowers:
Multitasking at its best

Favorite thing to do within the company:
Coming up with new product ideas
Devy (Operations manager)
Devy has been the first employee and knows every single bit of the company.
She knows the history, she was there when the first collar was born and keeps the whole company on track.

Superpowers:
Numbers and excel sheets
Maya (Designer)
Maya makes everything pretty in this company. All the cute little icons and graphics are her work.
No project is too difficult and her favorit sentence is: "let me try!"

Superpowers:
Magically make everything look good
Lania (Production Manager)
Lanias experience is in production and quality control. Her eyes won't ever miss anything.
We secretly think, she can see nano-meters.

Superpowers:
Eyes of an eagle
Lilis (Operations Assistant)
Lilis is our good soul and always there when we need an extra hand. She supports Devy with the company operations and makes sure Kali gets enough pets.

Superpowers:
Makes everyone feel better
Kali (Secret Boss)
Kali is the secret boss of the company. She tests the products but actually doesn't work. Her presence is all that we get.

Superpowers:
Sleeping more than 20hrs per day

Favorite thing to do within the company:
Getting the pets!